London
13 June 14
It is summertime and in Britain the early morning mist drifts across fields and clings to the roots of trees. Tents are erected and the dowdy colours of winter are a thing of the past as the children of the rainbow appear from forests and their various hiding places to worship the sun, to enjoy the abundance of nature around them. And the music these spirits of the fields like to indulge in on balmy warm evenings is psychedelic space rock.
In the olden daze there would have been these wondrous events called "free festivals" where people could dance till dawn to the sound of pounding bass lines. But then came the bad times when darkness crept across the land and the free festivals were no more and the bands who played this heavenly music began to fade.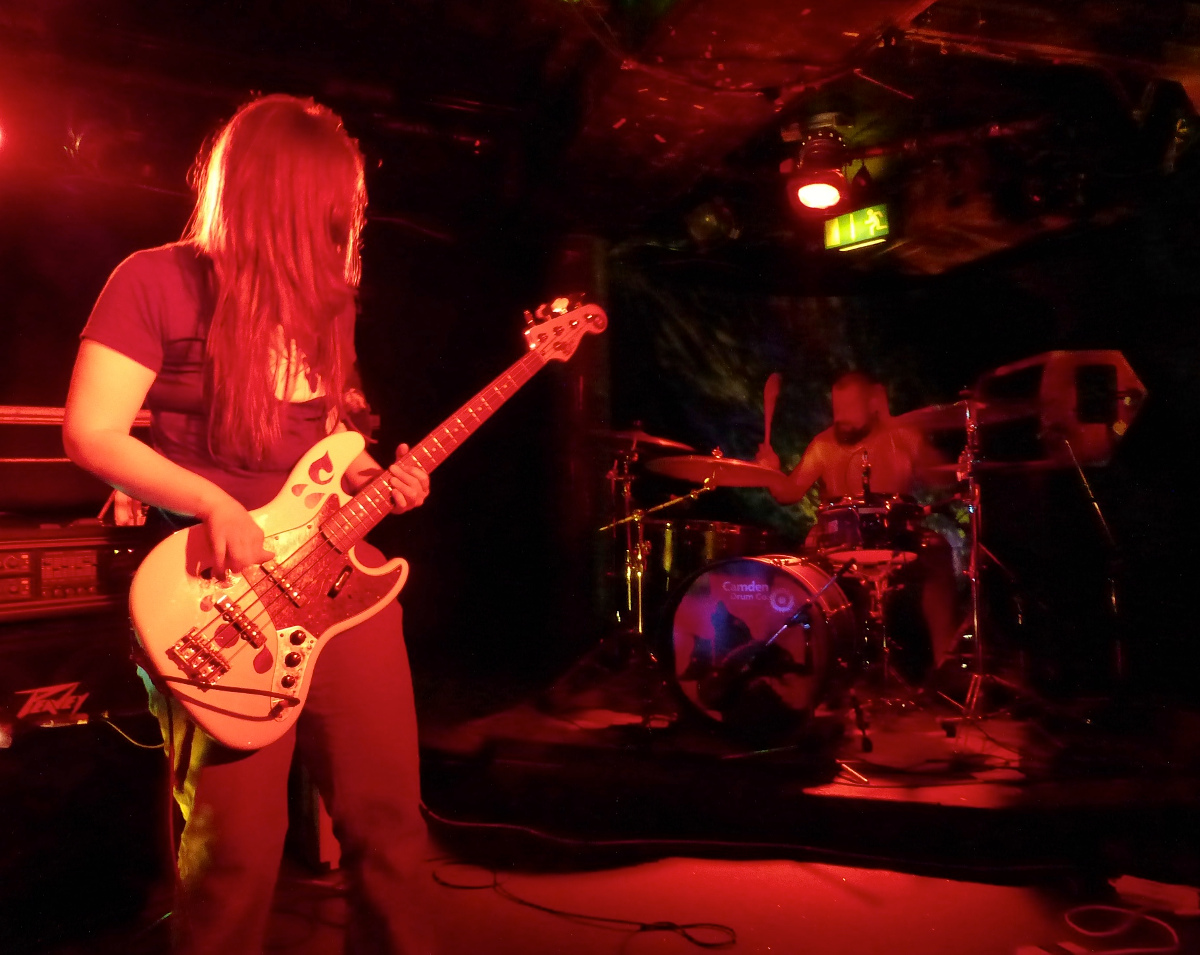 Electric Moon are the perfect festival band, bright colours and deep bass throbs all around and creates a realm of psychedelic wonderment. The only thing is, tonight they are not playing at a colourful festival like Sonic Rock Solstice (where they will be playing on midsummer weekend) but at Camden's Underworld, a deep dark basement far away from the sun. In this cavernous gloom, various brightly coloured 'freaks' await the band and for the ritual from the universe to begin.
Tonight we are treated to three extended slices of perfect cosmic rock that stretch out to over an hour in total. Bright day-glo colours swirl around as the three musicians take to the stage and
Sula Bassana
straps on his guitar and hunches over his vast array of pedals and then begins to play. The sound is a message from the last outpost in space: it is starfall, it is a shining moving walkway through the cosmos. When
Komet Lulu
begins to come in on the bass and
Marcus
hits the drums,
we're on a collision course for the sun and there's no turning back
. Sula plays some wild lead — at times it verges in to
Steve Hillage
territory at his best with its subtlety and pure melody. At other moments we get
Jimi Hendrix-
style wild freak out guitar; and at another point we have
Steffe Sharpstrings
of
Here and Now
's "Hairy Barber"-style glorious Om riffing. He coaxes feedback from the amp and takes us through a tale of interplanetary exploration — this is marvellous, breathtaking stuff.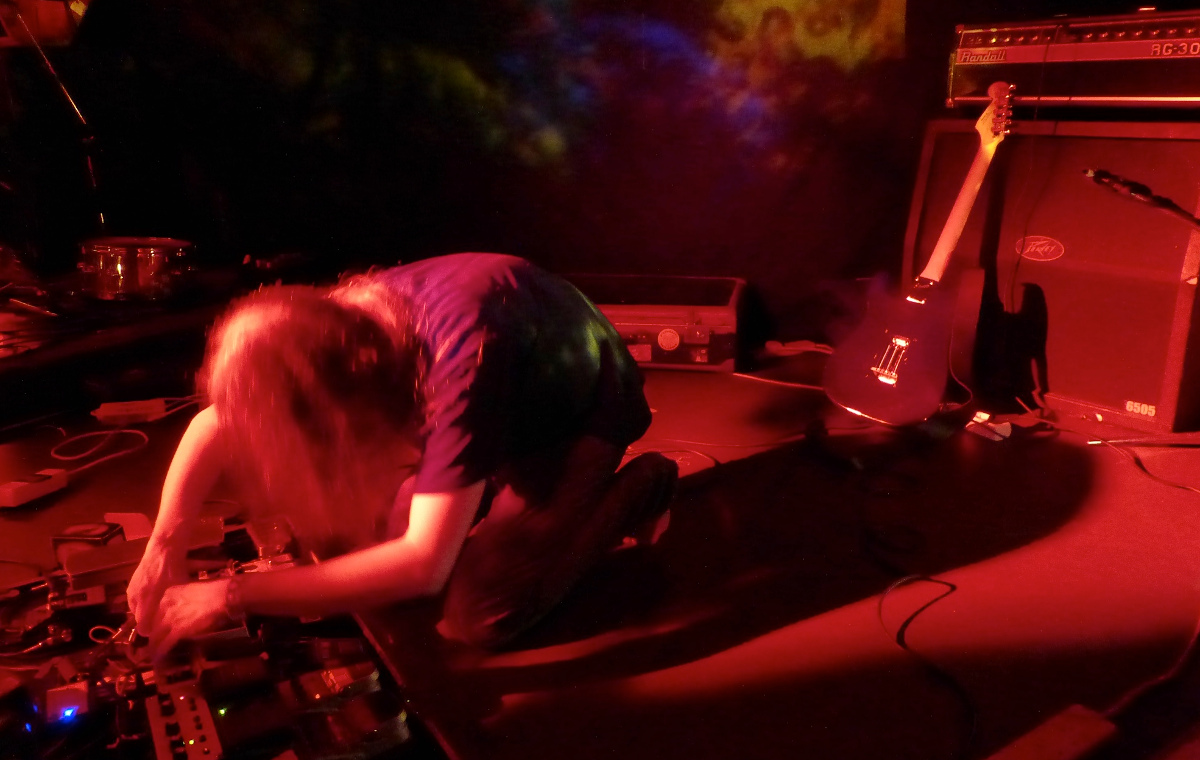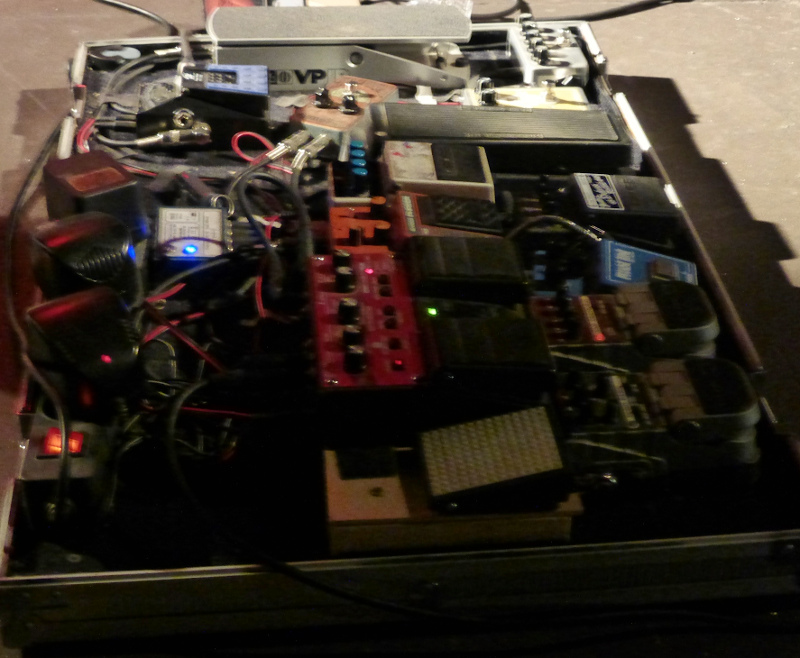 Komet Lulu's wonderful bass riffage is not to be played down either. She straddles
Lemmy
-style heaviness and early
Roger Waters
two-note drone, like a Morse code message from Mars. Lulu augments these rhythms with effects from her pedals that add to the sprawling otherness of the music. Markus's drumming crosses between
Terry Ollis
-style freakout to the more controlled kit use of early
Floyd
's
Nick Mason
. He keeps the beats interesting and helps the tracks
on their forward trajectory to cosmic bliss-out
. I could mention other space traveller band names like
Hawkwind
here, but Electric Moon have a very definite style of their own that helps them to discover new worlds as well as visit some older ones.
Unfortunately, due to time constraints at the venue, all we are allowed are these three monolithic tracks of summer solstice wonderment and the set draws sadly to a close. Electric Moon are the kind of band who you want to play for a very long time, to help you leave planet Earth behind for just a short while and drift among the stars of the beautiful beyond. Catch them live if you can — you won't be disappointed.
-Words: Gary Parsons-
-Pictures: Andy Oram-