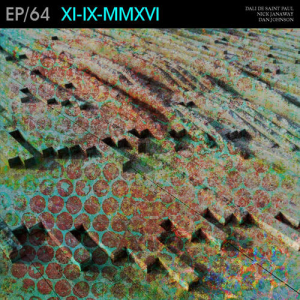 EP/64 is the band, a threesome of drums, electronics and vocal abstracts from Nick Janaway, Dan Johnson and Dali De Saint Paul. This tasty artefact documents some mighty fine live action, the date of which is betrayed by the Roman numerals of the title.
Right from the offing, it's an odd experience of owling reverbs on skitterpan skirmishes. This strange strangulation of electronics eking through, mimicking the vocals in a menagerie of digital silly string. An abstraction that interscopes your head with a chrysanthemum of Catherine Ribeiro yelps and slidey squiduals.
The second track hooks in tighter, a droney yodel skimmeridging this bubbling snyth to jiddery IDM drums. Sounds a bit Nurse with Woundy in its brewage as trancey chants blend with garbled gangulars, and rolling rims hit between the possessed freefall before spreading its wings on tribal tributaries.
The third is looser, finds a eerie aortic equilibrium as discernible lyrics lick the
alphabetty repeats on a bent plasticity of tapering pirouettes
. The fourth moves in some lovely
Galás
screamy details, an adagio of agitations that quickly unearths its treasure on a staple of tribal heat and yodeling yapes. A vibe that leaves you envious that you missed out on this life-affirming sparkle at first hand.
An entertaining ride that's quickly picked up by some radical remixes that round off this curiosity in Reich-like splatters, cut-up epileptics and atmospheric washes from Stu Chalmers, MicroDeform and Burl – a selection that really gets into the DNA of the first half and promotes immediate re-spin.
-Michael Rodham-Heaps-