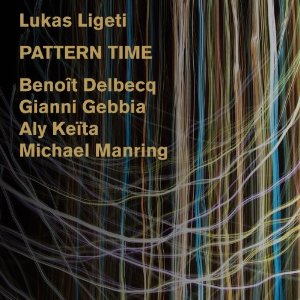 Lukas Ligeti: Paris Hilton of c21st avant-garde. No, that's bollocks. I just wanted to say it. I did pick this CD up because György Ligeti is one of my favourite composers, and Lukas is his son. But, save for a striking similarity in surname, there's only glib, superficial similarities between father and son: bits of Pattern Time could bear a passing resemblance to Ligeti Sr's "Movimento Preciso e meccanico" (from Chamber Concerto, 1969-70) or the later piano études but it's a strained comparison at best.
The problem I've had with this CD isn't so much that it's difficult music, so much as having such a paltry grasp on where it's coming from. It feels like a sort of jazz fusion record – right down to a
Pastorius
-taught fretless bassist – but seems much closer to African traditions than it does anything I'm particularly familiar with. I could probably fudge together some sort of comparison to what I've heard of polymetric Mbira music, or a great CD by
Gonda Traditional Entertainer
s from Kenya (which is genuinely amazing), but ultimately I'm very out of my depth. The inlay points to a relationship with modern African jazz, and I'm happy to take that on board, but can't really be any more insightful.
What I feel slightly more comfortable in saying, however, is that this doesn't really feel like the sprayed on African-isms of well-meaning church fête world music or the 'oh they're black, that'll do' of third on the bill Jools Holland guests. There's a real sense that these pieces – which, according to the inlay, operate somewhere between improvisations and compositions – have an internal logic, a rhythmic resolution which is just beyond conscious apprehension. Pulses don't quite persist the way my ear's expecting them to, and the over-laying and constant movement of  rhythms is baffling to follow… but it's never irritating, or discontinuous. Very much a record that's at once complex while never being offensive or unsettling. For what little I know, it's 'authentically' African, but that probably only means I tend to think that complex, crossed rhythms are from 'somewhere over there.'
It's also quite a disarming record. Personally, I tend to get a little edgy whenever there's too international a personnel on a record sleeve – I end up worrying that a dilution, a chain of weak links, ends up being the result.
Pattern Time
certainly has the international personnel – US via Austria, France,  Côte d'Ivoire and Sicily – but this is a long way from being a smug United Nations jazzturbation. You might need a bit of tolerance for
Weather Report
-style bass, but there's more than enough implacable rhythms and deft playing going on to keep it stuck in the deck. A record that's undoubtably dense and complex with rhythms, but never heavy or overbearing, and by no means impenetrable. Nice work, Junior.
-Kev Nickells-