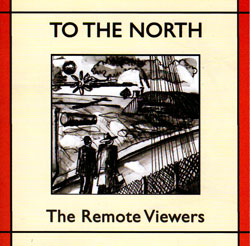 What a difference a well deployed field recording can make. The Remote Viewers' ninth album, To the North begins with what sounds like footsteps on gravel, an approach made on private land, a trespassing, intrusion or return home. It's sufficient to throw the ensuing material off-kilter; what could be otherwise described as a comfortable and comforting tour through a variety of approaches to jazz derivatives becomes something slightly askew, exuding a slinky menace that insinuates itself further with each repeated listen.
Saxophonists
David Petts
(the
Poison Cabinet
,
B-Shops for the Poor
) and
Adrian Northover
's (
Dha
,
Happy End Big Band
,
B-Shops for the Poor
and
Sonicphonics
) ensemble has seen multiple line-up changes over the years. For this release – their second without singer
Louise Petts
– they augment their sax quartet (rounded out by
Sue Lynch
and frequent
Annie Lewandowski
collaborator
Caroline Kraabel
) with the incomparable rhythm section of
John Edwards
on bass and
[post="audience-mark-sanders" text="Mark Sanders"]
on drums. Much of the fun to be had on
To the North
comes from listening to these two playing it straight and sticking to grooves; even when locked down and metronomic Sanders remains colourful and supple, while Edwards' playing hints at the near sacrilegious prospect that this most ubiquitous of free improvising bassists might get a kick out of playing
Richard McGuire
's bassline to
Liquid Liquid
's
Cavern
(famously sampled on
Grandmaster Melle Mel
's classic "White Lines").
All of which runs the risk of sounding like damnation with faint praise. Indeed, on the surface there's little to recommend the latest Remote Viewers album. There's no hook, no gimmick. The music playfully dips between composition and improvisation, always impeccably judged, conducted with a restrained poise and a keen awareness of the fine line between welcomingly familiar and coffee table anodyne. The recording is full, warm and rounded. It's everything that should be detestable, with its spy movie vamping, sanded and polished surfaces and shameless, unrepentant tastefulness. Christ, it's nearly an acid jazz record.
Yet somehow
To the North
transcends these unpromising ingredients unscathed. It might be to do with the stellar pedigree of its players; its lean economy of arrangement; its muscular swagger; the slight suggestion that Petts and Northover are sneering at those who take this music business just that little bit too seriously.
It's fun, infectious and catchy, with a sense of craft that makes it a pleasure to listen to
. Just this once, that seems more than enough. I won't make a habit of it.
-Seth Cooke-