London
14 November 2014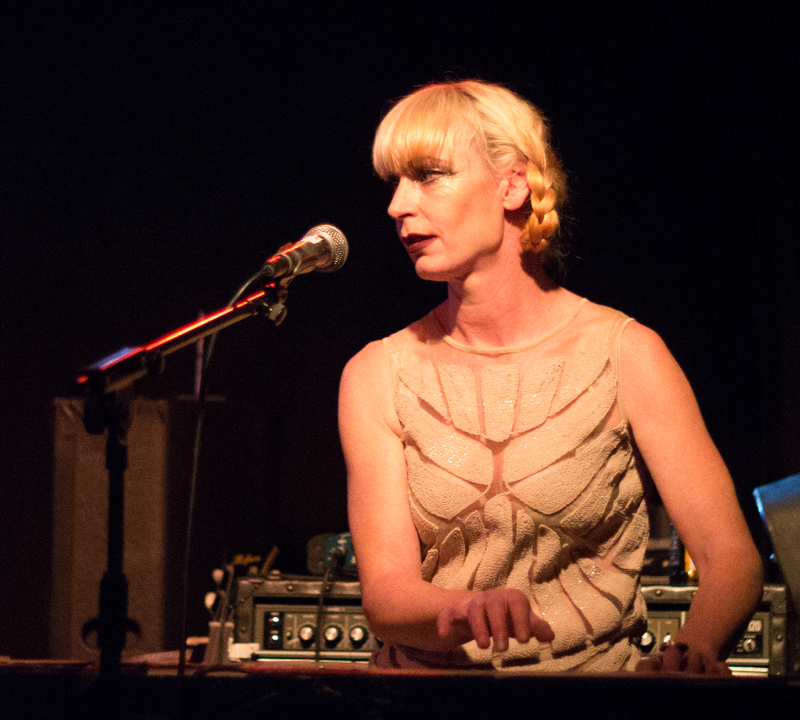 The Cesarians and The Men That Will Not Be Blamed For Nothing together at last! Finally London's finest purveyors of punked-up big band music are sharing a stage with its premier gang of Victorian anarchists, and it's a wonder it's never happened before. Also a wonder that it's happening at all, Men frontman Andy Heintz having only recently been given the all-clear for throat cancer. To mark this special occasion, there are tribute beards everywhere, which is kind of odd.
Sadly by the time we arrive we've missed the first band,
False Flags
, who by all accounts were storming. I shan't be making that mistake again, for sure. But we are, thankfully, in time for The Cesarians, who I haven't seen in maybe three years. And they've changed, shifted their sound a few (well, a lot of) feet sideways, and made it bigger, moving from Europe in the '30s to Chicago or LA in the '50s, coming on like
Gangbusters
and
laying down the law in a way even Ellroy would approve
of. Only with longer sentences.
Woman
" and taken a much chunkier road.
Brassy bass and bassy brass
provide a rock-solid formation over which their songs can sleaze and slime their way through the venue. The rest of the band now take a far greater vocal role as well, serenading and torturing frontman
Charlie Finke
as he agonises, schmoozes and boozes his way through several of his own personal Hells, taking in every bar along the way. At times it sounds almost like the
Jim Thirwell
's classic phase as
Scraping Foetus Off The Wheel
, only very much music to be performed by a living, breathing, right there in your fucking face BAND, rather than just created in a studio by an insane genius.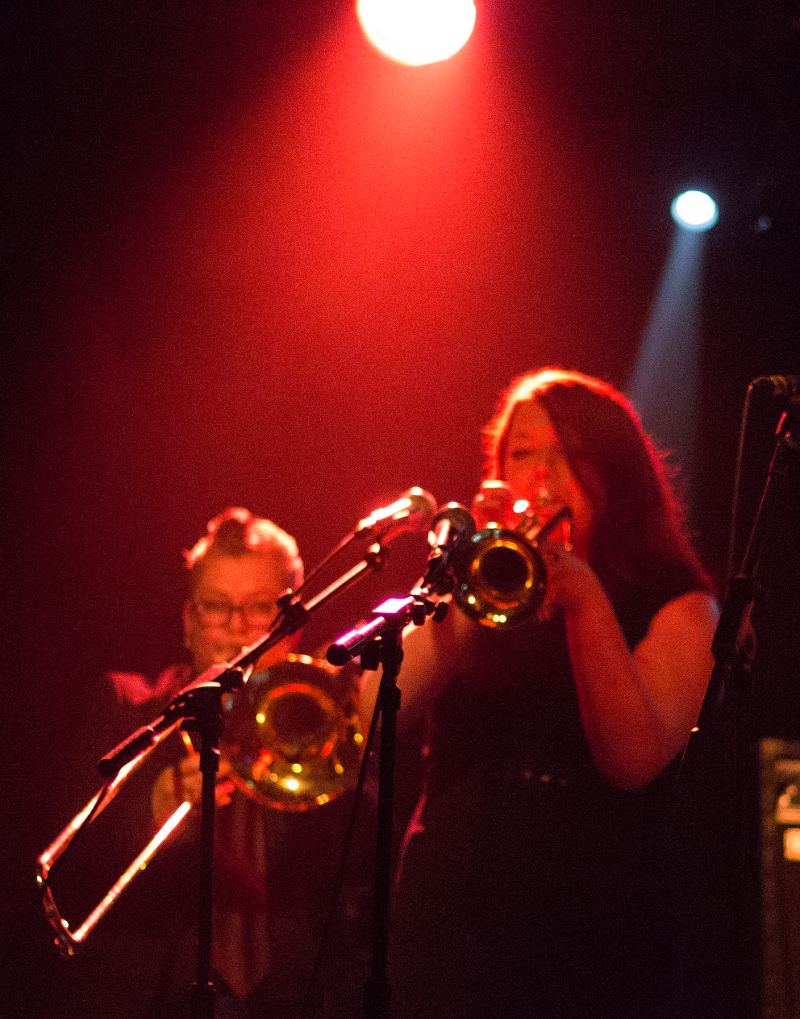 Their paean to Raul Moat, "In Your House" is, if anything, more psychotically menacing than ever before, most of the lyrics appearing to have evolved quite a way since its first outing in 2011. Also having evolved to quite a stunning degree is the aforementioned "Woman," whose seedy grind now occurs on at least three extra levels, and which has benefited from a whole shitload of added space and dynamics.
It's fascinating seeing them after such a long break (on my part); like all great bands they're in a constant state of flux, refusing to get tied down to one sound. At one point Charlie even straps on a guitar, and it's kind of like when Nick Cave first shocked us all by doing it with Grinderman –– at first you're all like "WTF?" and then the music takes over and you realise the only real downside to this is that his restricts his always-entertaining movement. Slightly.
The Cesarians have not forgotten how to put on a show, and that's for damn sure. "She Said," with its deliriously catchy "
Just fuck off just fuck off just fuck off just fuck off
" chorus, is a paradoxically joyous affair, and I think does more than anything to win over a ton of fans in an away crowd which is moving about a fuck of a lot more at the end than it was at the beginning. And that, ladies and gentlemen, is what it's all about.
anti-Victorian juggernaut
they've become. A shitload of new songs, a whole bunch of cool new tweaks to the old ones, and a surprise blast from the past (of which more later) bring them back in style.
The new material is, quite simply, stunning — from the atheist ghost story of "This House Is Not Haunted" to the bleak revelling in misery of "Rats, Lice And Fleas" (on which Andrew O'Neill FINALLY gets to let loose with some trve kvlt black metal treble-shredding — you can totally tell he's been itching to do that for years), every one's a winner. "Miner," which I saw them do last time they played here a year or so ago, is an angry knot of righteous speed-metal indignation. The older songs sound fresher than ever, almost all of them having been tarted up with new guitar twiddles, rock'n'roll callbacks and jokes. Which is the thing. In the last couple of years they've managed the switch from awesome comedy band to awesome rock band with hilarious jokes. A subtle yet important difference. Coming on to "Doin' It For The Whigs," they get a rapturous reception from a packed-out Garage and a moshpit more than capable (literally) of breaking a foot.
They're not above chucking in a slyly pre-twentieth century post-modern rock history reference, too, whether it's riffing on
Sabbath
's "Iron Man" during "Boilerplate Daniel" or chucking in an utterly bizarre yet note-perfect mid-song segue into J
udas Priest
's "Breaking The Law," complete with Andy wearing a
Rob Halford
hat, (and even, less metal, the
EastEnders
music in "Jesus Was A Cockney") but none of it really gets in the way; the sly winks (which would only be a typo if I was talking about their hilarious delivery of catchily-titled "The Common People's Medical Advisor By RV Pierce MD") and sideways comedy glances are all
enmeshed perfectly in the bowels of an incredibly tight kick-ass metal band
(yeah, don't think about that one too much. It gets unpleasantly intestinal).
But great, tight and well-oiled machine that they are, tonight it's all about Andy. And as they come back on for the encore, he's wearing some kind of bizarre mesh helmet (which he later explains is his radiotherapy mask) and dressed all in white, and it's like some kind of samurai Mummy, and… wait, what's that they're playing? I know this one… but from where…? OH MY FUCKING LORD IT'S "LILIES" BY CREAMING JESUS, Andy's old band from over two decades ago, and incidentally the first band I ever saw when I moved to London in 1990 (they were playing with Fields Of The Nephilim, pop-pickers). It's a REALLY nice touch, and The Men rock the fuck out of it. As you'd expect.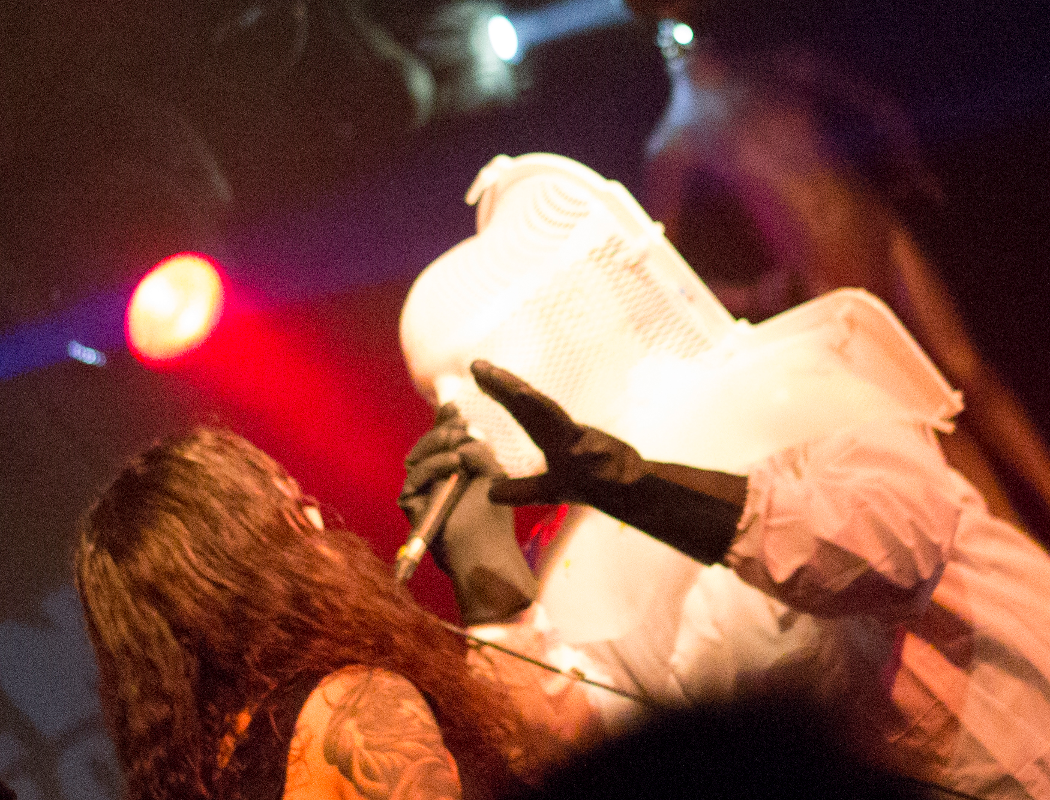 As they close with civil engineering hardcore slammer "Brunel," it's obvious they're back, and back in style. Maybe even their best gig yet. It's wonderful to see them again.
-Words: Justin Farrington-
-Pictures: Dave Pettit-
(This review is dedicated to my friend's broken foot).