The Spitz, London 5 June 2003
When the Acid Mothers Collective come to town, a few things are certain – extended improvisations, guest appearances (tonight's honourable psychonaut is none other than Daevid Allen), antics and japes at the keyboards, and hair. Lots and lots of hair: not just on the heads of Makoto Kawabata and Higashi Hiroshi, what with the Camembert Electrique crowd out in force, some spectacular mullets are in evidence in the capacity crowd too.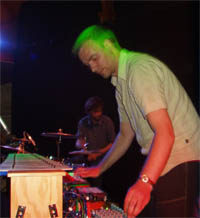 Hirsute fans aside, the evening opens with the shorn Norwegian Kosmische favourites Salvatore, whose progression beyond Post-Rock finds them riding on solid grooves accompanied by rippling melodies. Their instrumental glide is usually right at home, but tonight their performance lacks a continuous sparkle, breezing through on a pleasant churn of electronics and assorted guitar, basses and drums without really ever lifting off.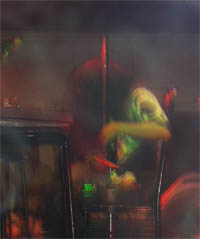 Acid Mothers Collective: – Guru + Zero – Tsurubami – Pardons – Kawabata Makoto/Salvatore (live at the Kosmische Club) […]