London
12 August 2017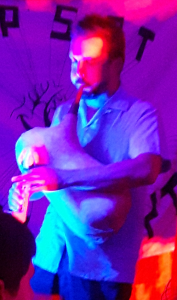 Téléplasmiste appeared through the crowd, all leper bells and bagpipes, before standing behind their modular bookcases like spiritual telephonists bending a self-help guru's words into slurring stutters, worked into a gurgle of disco diamonds, strange elfish jigs that swooped around like hungry seagulls between the syrupy syllables.
The tempo slowed right on down to a gluppy crawl, sort of sucked at the air, languished in digitised splatters, Mr York piling in some divine heavy droning, nodded with satisfaction as tasty Klaus Schulze-like eruptions and draggering crevices haemorrhaged the hum. A brief foray of bell ringing ensued, like maritime echoes caught on this blackening horizon over-spilling in twisty tangles and metallic splatters, the physicality of which possessed, cancelled out all distractions as Mr Pilkington crawled in a host of rupturing extras.
A
quaking intensity that dipped back into the blown mediaevals of the goatskin bagpipes
, a spiral-headed whine as the modulated backdrop dissipated into applause. Glad to see
House of Mythology
is picking up that
World Serpent
slack.

Kawabata Makoto and Pikacyu blasted straight into it; and no doubt about it, they were phenomenal. Pika was a whirlwind of arms and excitable yelps, syllables flying over cymbals, Japanese and English shrapnel tangling that Makotoised fiesta as each snipped at the other's heels like excitable chihuahuas. Sparks were in plentiful supply as her Haribo-fuelled plunges and recoils grab-bagged wildlings of rhythm, chased around that effect-saturated guitar.
The records are good, but this was straight off the bone – drinking from the moment, a freeform adventure that gave way to more rocky directives scampering off on Makoto's buttery intent. A few numbers in, Pika announced gleefully she'd been shopping – produced a canvas and squeezy paint tube, but before embarking on the obvious (like that would happen, hey) she scratched the surface, revelled in the abrasive sonics of her fingernails, Makoto mirroring her in fluid spookologies, kitten-curling his trusty nail file, catching her chattering abstracts in eeling elastics.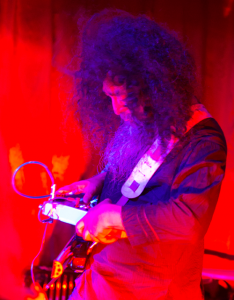 She painted a member of the audience – a portrait that turned out to be a smiling star flower. She grabbed another canvas, penned a simple likeness of Makoto minus his beard, something Pika quickly corrected before the drums rolled in once more, and the canvas disappeared into the audience. And wasn't the only surprise of the evening either, as Kawabata swapped his usual weapon of choice for some consoled contraption synthy box thing which squirted out some rather pleasing sonic colours. A biosphere of mellow bleeps and scudding curls that had a brittle reminisce of "Pink Lemonade" (perhaps) to which Pika maypoled in a swoop of birdy whistles.
The radiance of this sort of tugged at you,
placed a kernel of hope in life's fireplace before fleeing away on a wah-filled glorybox of scorchy guitar
once more. For the spur-kicked finale, Pika's hair became an inky splurge of activity as her top-knot was shaken free and Makoto bent into a fiery sunset in a blinding display that ended far too quickly for my liking. With any luck it's all been recorded (for future release hopefully), but to see it right there in front of you was a privilege.
-Michael Rodham-Heaps-